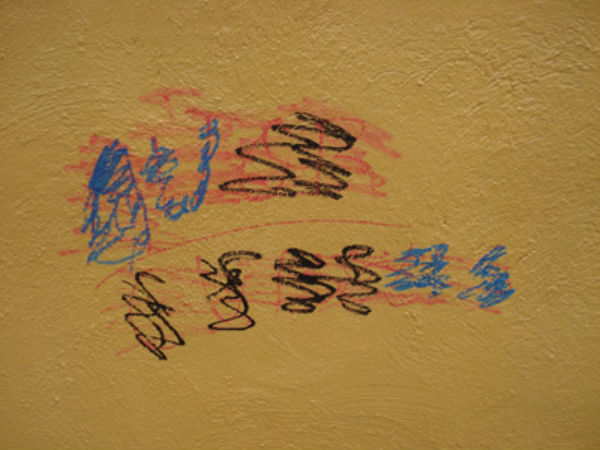 [Blau, ocre, negre i roig. València, 2010. Foto: Joan Navarro]
⌠Corina Copp⌡
Saturday. A carrot into Saturates
rosé.
Sidewalk hands held daren't
energize for anything
but complaint. Already this
creates mauve pears. Call
building services and Frenchly,
they will phone me
sterilized an animal at a dour poaching.
Maybe, to put right
your problem, for Jack
to undo the tangles, you must
ask him forcefully,
«Jack will you look at this
confidential circuit board made of hard sugar,»
and after his wet
train travel, reveal an orange
in a pile of leaves
to feel like dawn in your parents' datebooks
when a major
date. Arrows quivering in glass of the chandelier
droplet Jack
puts in his mouth, reasoned
an orange cleanser on the hillside
is what made him brush
your hair later, serenity
sheerly.
***
Bread board
is always lit or functions of doves
spare us. Seriously they were let
out of a bag at a funeral.
Greenlit we found a problem confidentially
soldered to be in the
Victrola «Who
wants to squeeze the life
out of something
inanimate?» Me, at last,
at long last like a hallway
I want to wingspan as a
baby shoe DOVES wear
NEATLY trips a rough
bye, pads say rough fade-out or rough
Ripper in the attic. Eat string,
but don't trip control.
I dove into Maysle's pool,
this dive and the hallway hug
being what consume means,
not poor licking
honeypots,
servants, unfrozen
bassets cherished spitwads as a term
redirecting the owls.
I rose from the honeypot
and dripped into the Victrola. Dottie,
will you buy an owl?
Buying redirects my husband
Jack, anyway. I forgot I was
married as it waited
in matte red
markers to be drawn
hotly repressed and contingent on sanity,
which is redefined
as salacious as a coffin holding
your mother and the inverse. Tell me not to use
that word in her
dumb screed; I'm sorry for your mother,
which word.
|Corina Copp is a poet and playwright living in Brooklyn. Her recent work can be found soon or now in Cambridge Literary Review, Cannot Exist, Wild Orchids, The Brooklyn Rail, Jacket2, Supermachine, Aufgabe, and others. New chapbooks are forthcoming from minutes BOOKS and Ugly Duckling Presse. Plays: Tell Only One (Small Press Traffic Poets Theater Festival, Jan. 2011); WALTZ (CSC/E. 13th St. Theater, July 2010, director Meghan Finn), and A Week of Kindness (Ontological Incubator/Brick, 2008). She is the current editor of The Poetry Project Newsletter and co-curator of The Twenty-Five Cent Opera of San Francisco.
Sábado. Una zanahoria entre Satura
rosé.
Manos de acera tomadas no osan
energizarse por nada
salvo quejas. Ya esto
crea peras malvas. Llama
a la conserjería y a la francesa,
me telefonearán
esterilizado un animal en severa cacería furtiva.
A lo mejor, para enderezar
tu problema, para que Jack
deshaga la maraña, tienes
que pedirle vigorosamente
"Jack puedes revisar este
circuito secreto de azúcar dura,"
y tras su viaje
mojado en tren, revela una naranja
en medio de un montón de hojas
para sentirte como el alba en las agendas de tus padres
cuando una fecha
importante. Flechas vibrando en vidrio de la gotita
de candelabro que Jack
mete en su boca, pensó
un detergente anaranjado en la ladera
es lo que le obligó a peinar
tu cabello más tarde, serenidad
puramente.
***
Tabla de pan
está siempre encendida o funciones de palomas
nos amparen. En serio las sacaron
de una bolsa en un funeral.
Con permiso encontramos que un problema soldado
en confianza estaba en la
vitrola "¿Quién
quiere exprimirle la vida
a algo
inanimado?" Yo, al fin,
por fin como un pasillo
quiero envergadurar como una
prenda PALOMAS zapato de bebé
CON PRIMOR tropieza un rudo
adiós, almohadillas dicen rudo apagón o rudo
Destripador en el desván. Come hilo,
pero no tropieces control.
Me zambullí en la piscina de Maysle,
este salto y el abrazo del pasillo
son el significado de consumir,
no pobre lamiendo
mieleros,
criados, descongelados
perros bassets queridos escupitajos como término
desviando a los búhos.
Me alcé del mielero
y goteé en la vitrola. Dottie,
¿comprarás un búho?
Comprar desvía a mi marido
Jack, igual. Se me olvidó que estoy
casada mientras eso esperaba
ser dibujado con marcador
rojo mate
acaloradamente reprimido y dependiente de la cordura
la cual es redefinida
como salaz como un ataúd con
tu madre y lo inverso dentro. Dime que no use
esa palabra en su
arenga boba; lo lamento por tu madre,
qué palabra.
|La poeta y dramaturga Corina Copp vive en Brooklyn. Selecciones de su obra reciente han aparecido en Cambridge Literary Review, Cannot Exist, Wild Orchids, The Brooklyn Rail, Jacket2, Supermachine y Aufgabe, entre otras. Ugly Duckling Presse y minuteBooks publicarán dos nuevas plaquettes de su poesía. Obras de teatro: Tell Only One (Small Press Traffic Poets Theater Festival, Enero 2011); WALTZ (CS/E 13th St. Theater, Julio 2010); y A Week of Kindness (Ontological Incubator/Brick 2008). Es editora de The Poetry Project Newsletter, y co-curadora de The Twenty-Five Cent Opera of San San Francisco.
| Translation: Manuel Fihman
Dissabte. Una safanòria en Saturats
rosats.
Agafades mans de vorera no gosen
activar-se per res
sinó la queixa. Això ja
crea peres malva. Truca
a la consergeria i a Frenchly,
em trucaran per telèfon
un animal esterilitzat en una severa caça furtiva.
Potser, per corregir
el teu problema, per tal que Jack
desfaça els nusos, has de
demanar-li-ho amb força,
«Jack, vols mirar aquest
circuit secret de sucre dur, »
i després del seu humit
viatge en tren, descobreix una taronja
en una pila de fulles
per sentir-te com l'alba en les agendes dels teus pares
en una data
important. Fletxes tremoloses en el vidre de la goteta
del canelobre que Jack
posa en la seua boca, va considerar
un netejador taronja en el vessant
és el que li va fer pentinar
el teu cabell després, la serenitat
purament.
***
Taula de pa
està sempre encesa o funcions de coloms
que ens substitueixen. De debò les van traure
d'una bossa en un funeral.
Amb permís vam trobar un problema soldat
en confiança que estava en la
Victrola «Qui
vol esprémer la vida
a alguna cosa
inanimada? » Jo, per fi,
finalment com un passadís
vull envergadura com una
sabata de nadó els COLOMS porten
PULCRAMENT viatges un aspre
adéu, coixinets diuen aspre encadenament fos o aspre
Esbudellador a l'àtic. Menja fil,
però no pergues el control.
Em vaig capbussar a la piscina de Maysle,
aquest salt i l'abraçada del passadís
són el que el consum significa,
no pobres que llepen
meleres,
servents, descongelats
gossos bassets reconfortants escopinades com un terme
reorientant els mussols.
Em vaig aixecar de la melera
i vaig degotar en la Victrola. Dottie,
compraràs un mussol?
Comprar redirecciona el meu marit
Jack, de totes maneres. Vaig oblidar que era
casada mentre allò esperava
ser dibuixat amb marcadors
roig mat
acaloradament reprimits i depenents del seny,
que es redefineix
tan salaç com un taüt que conté
la teua mare i al revés. Digues-me que no use
aquella paraula en el seu
estúpid sermó, ho sent per la teua mare,
quina paraula.
|Corina Copp és una poeta i dramaturga que viu a Brooklyn. La seua obra recent es pot trobar en Cambridge Literary Review, Cannot Exist, Wild Orchids, The Brooklyn Rail, Jacket2, Supermachine, Aufgabe i altres revistes. Nous llibrets seus estan a punt d'aparèixer en Minutes Books i Ugly Dukling Presse. Obres de teatre: Tell Only One (Small Press Traffic Poets Theater Festival, gener 2011); Waltz (CSC/E. 13th St. Theater, juliol 2010, dirigida per Meghan Finn), i A Week of Kindness (Ontological Incubator/Brick, 2008). És l'actual editora de The Poetry Project Newsletter i cocuradora de The Twenty-Five Cent Opera of San Francisco.
| Translation: Jaume Pérez Montaner
[Anita Costa Malufe] ≥
a | entrada | Llibre del Tigre | sèrieAlfa | varia | Berliner Mauer