Jean Pierre Pouzol | sèrieAlfa 85
<![if !vml]>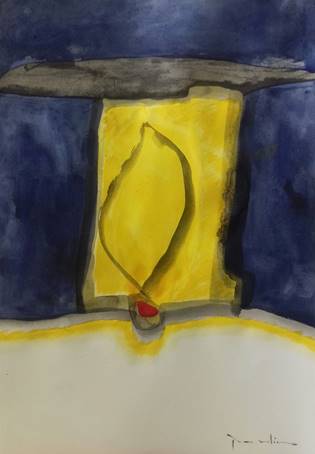 <![endif]>
Imatge: Pere Salinas
Jean Pierre Pouzol
L'enfant l'attrapa par la crinière
El nen el va agafar per la crinera
The child caught it by its mane
El niño lo cogió por la crin
Il bimbo l'afferrò per la criniera
L'enfant l'attrapa par la crinière
mais il ne savait pas s'il rêvait
le soleil montrait son visage
derrière les branches
il rêvait
mais avait-elle disparu
entre ses mains désemparées
19 novembre 2018
El nen el va agafar per la crinera
però no sabia si somiava
el sol mostrava el seu rostre
darrere les branques
ell somiava
però ¿havia desaparegut ella
entre les seves mans desesperançades?
19 de novembre 2018
[Traducció: Dolors Català i Joan Navarro]
The child caught it by its mane
but didn't know if he was dreaming
the sun showed its face
behind the branches
he was dreaming
but had it slipped       
from between his naked hands
November 19th 2018
[Translation: Taffy Martin]
El niño lo cogió por la crin
pero no sabía si soñaba
el sol mostraba su rostro
detrás de las ramas
él soñaba
pero ¿había desaparecido ella
entre sus impotentes manos?
19 de noviembre 2018
[Traducción: Joan Navarro i Dolors Català]
O menino apanhou-o pela juba
mas não sabia se sonhava
o sol mostrava o seu rosto
atrás dos ramos
ele sonhava
mas tinha ela desaparecido
entre as suas mãos indefensas?
19 de novembro 2018
[Tradução: Joan Navarro]
Il bimbo l'afferrò per la criniera
ma non sapeva se stesse sognando
il sole mostrava il volto
dietro i rami
sognava
ma era poi scomparsa
tra le sue mani sgomente
19 novembre 2018
[Traduzione: Christophe Mileschi]
| a | entrada | Llibre del Tigre | sèrieAlfa | varia | Berliner Mauer