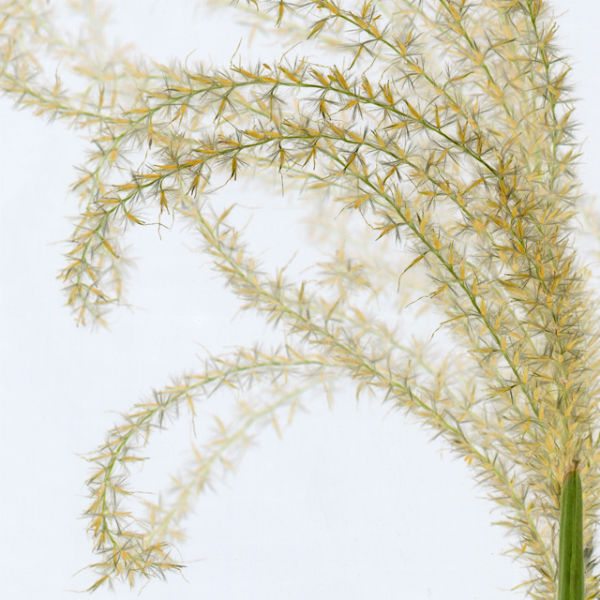 [Miscanthus sinensis. Foto: Rafa Bartual]
⌠Fina Cardona-Bosch⌡
Tacada de sol raja'm el ritme circadià.
Juguem vint-i-quatre, vint-i-cinc hores o seixanta-cinc si som a Mart.
Desgrana'm el metabolisme, classifica'm els gèneres silvestres a l'impacte visual.
Perenne, calmat, fotorep-me la retina en un jet lag conscient.
Bioenergitza'm amb un nutrient de productivitat inesgotable.
Com un mecanisme, energètic i fotosintètic C4, multiplica'm en primavera.
Regala'm biomassa. Acapara'm el terreny salvatge.
Aliada amb el clima, renova'm combustible.
Al bosc del cos, el substrat més profund.
Cosmopolita d'interiors.
València, agost, 2010
⌠Fina Cardona-Bosch, València. Escriptora. Professora de llengua i literatura a l'IES Ramon Llull de València. Ha publicat Plouen Pigues, Editorial 3 i 4, finalista als Premis Octubre, fou el seu primer llibre de poemes i va ser prologat per Vicent Andrés Estellés, i Pessigolles de Palmera, Llibres del Mall, Barcelona, prologat per Maria del Mar Bonet. Alguns dels seus poemes apareixen en diverses antologies. Ha presentat, dirigit i treballat com a guionista en programes de TVE, TVV i Ràdio 9 (La Otra Mitad, Spotisme Il·lustrat, By Pass, etc.) Ha publicat articles d'opinió al diari El País i en Qué y Dónde, cartellera d'espectacles on signava la secció "Entrevistas desde el Congo". Prepara l'edició d'un nou llibre.⌡
Sunstained, let your circadian rythm flow for me.
Let's play for twenty-four hours, for twenty-five, or sixty-five if in Mars.
Break my metabolism down, classsify my wild genuses in the visual impact.
Perennial and calm, photoreceive me in the retina in a conscious jet lag.
Bioenergize me with an inexhaustible productivity nutrient.
Like a mechanism, energetic and photosynthetic C4, multiply me in spring.
Bestow biomass on me. Monopolize my wilderness.
Myself allied with climate, supply me with new fuel.
In the body forest the deepest of substrata.
Interior cosmopolite.
Valencia, August, 2010
| Translation: Francesc Sellés |
⌠Fina Cardona-Bosch, València. Writer. Teacher of Language and Literature at Ramon Llull High School (Valencia). She has written Plouen Pigues (Freckles are Raining), a collection of poems, 3 i 4 Book Publishers, finalist in the Octubre Literary Awards, it was her first book of poems prefaced by Vicent Andrés Estellés, and Pessigolles de Palmera (Palmtree Pinches), Llibres del Mall Publishers, Barcelona, prefaced by Maria del Mar Bonet. Some of her poems appear in diverse anthologies. She has presented, directed and worked as screenwriter for TVE TVV (Spanish and Valencia TV) and Radio 9 programs (La Otra Mitad, Spotisme Il·lustrat, By Pass, etc.). She has published articles and opinion reviews for El País newspaper and for Qué y Dónde entertainments guide, where she would write the section 'Interviews from The Congo'. She is now preparing the release of her new book.⌡
Macchiata di sole scorrimi il ritmo circadiano.
Giochiamo ventiquattro, venticinque ore o sessantacinque se siamo su Marte.
Scomponimi il metabolismo, classificami i generi selvatici all'impatto visivo.
Perenne, calmo, fotoricezionami la retina in un jet lag cosciente.
Bioenergizzami con un nutriente di produttività inesauribile.
Come un meccanismo, energetico e fotosintetico C4, moltiplicami in primavera.
Regalami biomassa. Accaparrami il terreno selvaggio.
Alleata col clima, rinnovami combustibile.
Nel bosco del corpo, il sostrato più profondo.
Cosmopolita interiore.
Valencia, agosto, 2010
⌠Fina Cardona-Bosch, nata a Valencia. Scrittrice. Professoressa di lingua e letteratura catalana al liceo Ramon Llull di Valencia. Il suo primo libro di poesia, Plouen Pigues (Piovono lentiggini), pubblicato da Editorial 3 i 4 con la prefazione di Vicent Andrés Estellés, è stato finalista ai Premis Octubre. Ha pubblicato inoltre con Llibres del Mall Pessigolles de Palmera (Solletico di palma) con la prefazione di Maria del Mar Bonet. Alcune delle sue poesie sono raccolte in diverse antologie. È stata conduttrice, autrice e regista di vari programmi per TVE, TVV e Ràdio 9 (La Otra Mitad, Spotisme Il·lustrat, By Pass, ecc.). Ha pubblicato articoli su El País e sul settimanale di spettacoli Qué y Dónde, dove firmava la rubrica "Entrevistas desde el Congo" (Interviste dal Congo). Ha in preparazione un nuovo libro. ⌡
| Traduzione: Ivan García Moreno |
Manchada de sol flúyeme el ritmo circadiano.
Juguemos veinticuatro, veinticinco horas o sesenta y cinco si estamos en Marte.
Desgráname el metabolismo, clasifícame los géneros silvestres al impacto visual.
Perenne, calmado, fotoreceptéame la retina en un jet lag consciente.
Bioenergízame con un nutriente de productividad inagotable.
Como un mecanismo, energético y fotosintético C4, multiplícame en primavera.
Regálame biomasa. Acapárame el terreno salvaje.
Aliada con el clima, renuévame combustible.
En el bosque del cuerpo, el substrato más profundo.
Cosmopolita de interiores.
Valencia, agosto 2010
⌠Fina Cardona-Bosch, València. Escritora. Profesora de lengua y literatura en el IES Ramon Llull de Valencia. Ha publicado Plouen Pigues, Editorial 3 i 4, finalista en los Premis Octubre, fue su primer libro de poemas y prologado por Vicent Andrés Estellés, y Pessigolles de Palmera, Llibres del Mall, Barcelona, prologado por Maria del Mar Bonet. Algunos de sus poemas aparecen en diversas antologías. Ha presentado, dirigido y trabajado como guionista en programes de TVE, TVV y Ràdio 9 (La Otra Mitad, Spotisme Il·lustrat, By Pass, etc.) Ha publicado artículos de opinión en el periódico El País y en Qué y Dónde, cartelera de espectáculos, donde firmaba la sección "Entrevistas desde el Congo". Prepara la edición de un nuevo libro.⌡
| Traducción: Fina Cardona |
a | entrada | Llibre del Tigre | sèrieAlfa | varia | Berliner Mauer |